Term 3 and 4: Myths and Music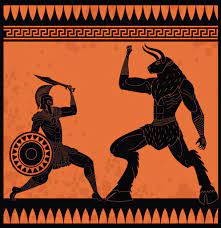 In Terms 3 and 4 we will be investigating the Big Question: Can music change the world?
We will have a look at some of the inventions that we still use today that came from Ancient Greek times. We will explore the thoughts of Greek Philosophers and making our own Greek instruments!
We will be making some instructions to catch the mythical beast that appears to have visited our school...
We will be learning the story of Theseus and the Minotaur, rewriting it and using this to form the basis of our Year 4 production!